Spreadstreet.io has become Cryptosheets!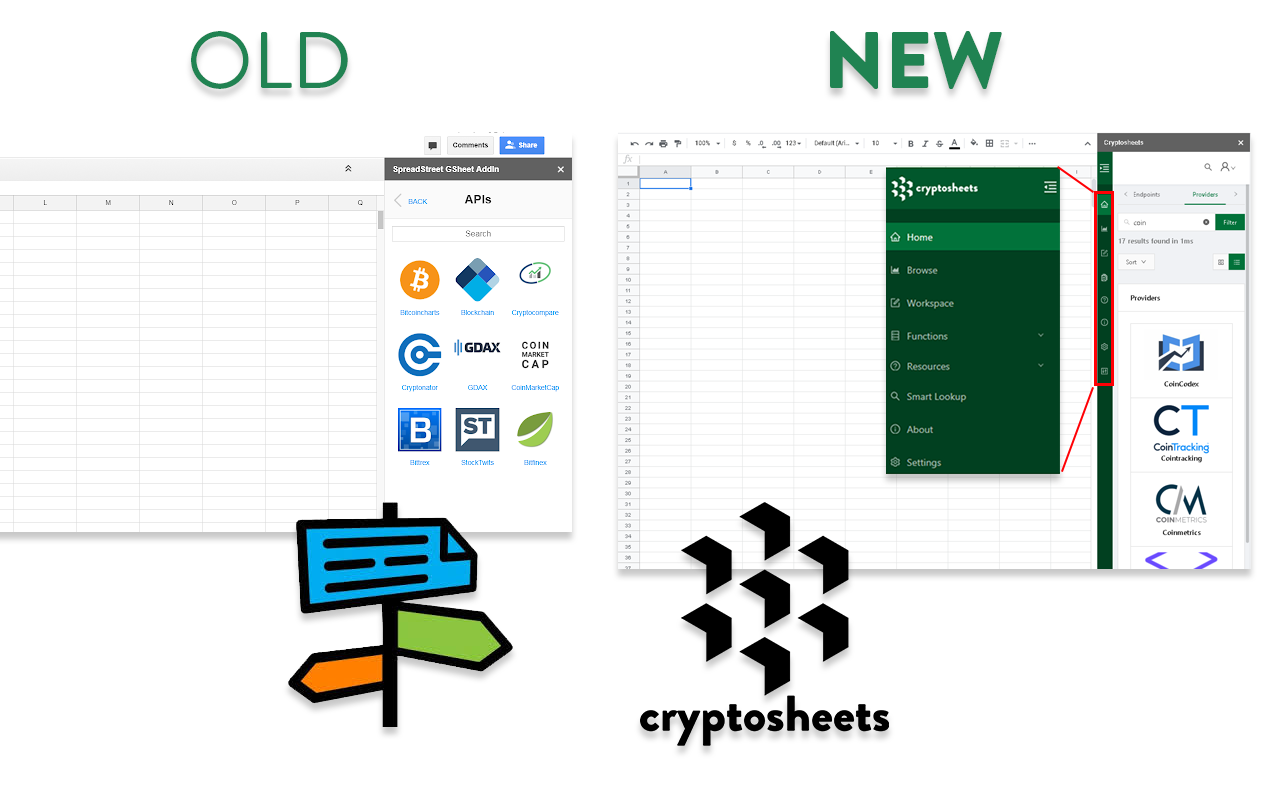 All your cryptocurrency data in Excel or Googlsheets, Crypto Data Just Got Easier
Legacy Spreadstreet.io users can now access all of the providers and data they previously had access to plus hundreds of new providers, endpoints, features and much more.
What this means for Spreadstreet.io users
Legacy =SS() custom functions still work
New more powerful =CSQUERY() functions now available New side panel app interface
Access Cryptosheets anywhere with the webapp
Mix & match providers Dedicated Help Center Live API consoles for testing Customizable workspaces Dashboard widgets Integrated Research Template library
I'm a Spreadstreet.io user - what do I do now?
Reinstall the add-on from the new Google GSuite Store



Get the Googlesheets add-in

Re-enter your user credentials in the Sign Up section of the Cryptosheets add-on
Check out tutorials, guides, examples and more in our Help Center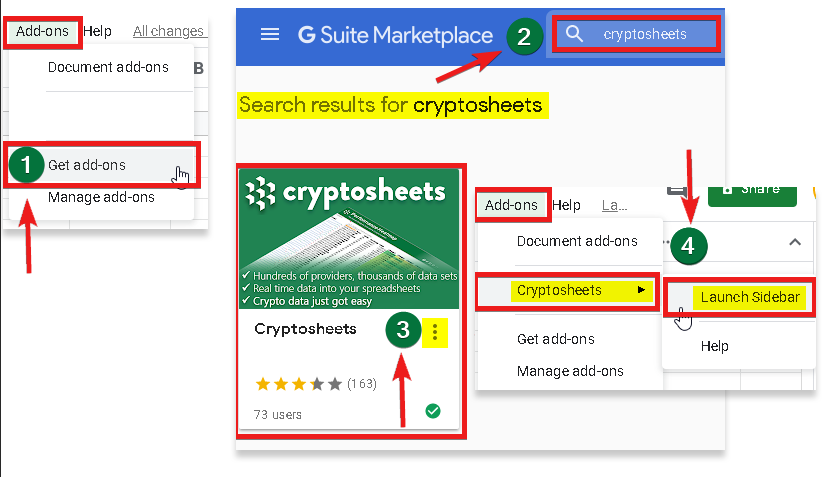 Have More Questions?
Overview
Spreadstreet.io has merged with Cryptosheets.com and will assume the Cryptosheets brand going forward. The merger has been underway for some time and represents the best path forward for both legacy platforms.
The consolidation allows Cryptosheets to provide the first ever unified access platform for crypto data across both Microsoft Excel and Googlesheets.
Billing & Subscription Plans
Legacy Spreadstreet.io users with existing subscriptions will see no changes to their billing in the interim but will receive full access to the Cryptosheets add-on and webapp. See more here
Transitioning
While we have done our best to maintain legacy functionality there are inevitably some core features and functionality that have or will change from what was available using the Spreadstreet.io add-on.
Luckily all the changes represent significant improvements and feature enhancements, along with a substantially expanded data catalog.
Excel vs. Googlesheets
Certain functionality and datasets will remain only accessible in Excel vs Googlesheets, largely do to the data throughput limits of Googlesheets.
Check Out the Latest Updates
Stay up to date with our latest udpates for both platforms by visiting our changelog page
Contact Us Directly
This is an exciting time for us and for all users, we welcome any questions, feedback, suggestions or otherwise related. Please don't hesistate to contact us directly
Let's get you started building with Cryptosheets today!