All Your Crypto Data in One Place
Hundreds of providers. Thousands of data sets. Real time streaming data into your worksheets. Markets, onchain, metrics, derivatives, defi, web 3.0, NFT, due diligence, taxonomy, stocks, bonds, ETFs, indices. More crypto data than anywhere else, combined. Crypto data just got easy.
&nbsp&nbsp&nbsp&nbsp&nbsp&nbsp&nbsp&nbsp&nbsp&nbsp&nbspGet the Excel add-in &nbsp&nbsp&nbsp&nbsp&nbsp&nbsp&nbsp&nbsp&nbsp&nbsp&nbsp
Get the Googlesheets add-in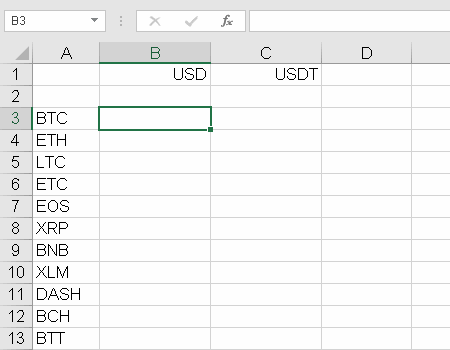 &nbsp
Available on Microsoft Appsource
Cryptosheets is available on the official Microsoft app store, just type "crypto".
Get Started with Excel »

API Console Query Builder

Our Unified Console and Formula Builder will change the way you work with crypto data forever
World class partner integrations
&nbsp
IEX Cloud
IEX Cloud is natively integrated with Cryptosheets. Access extensive data from conventional markets including equities, ETFs, options, fixed income, commodities, derivatives, economic indicators and macro benchmarks along with fundamentals, financials, regulatory filings and corporate actions.
Get Started with IEX Cloud data »
&nbsp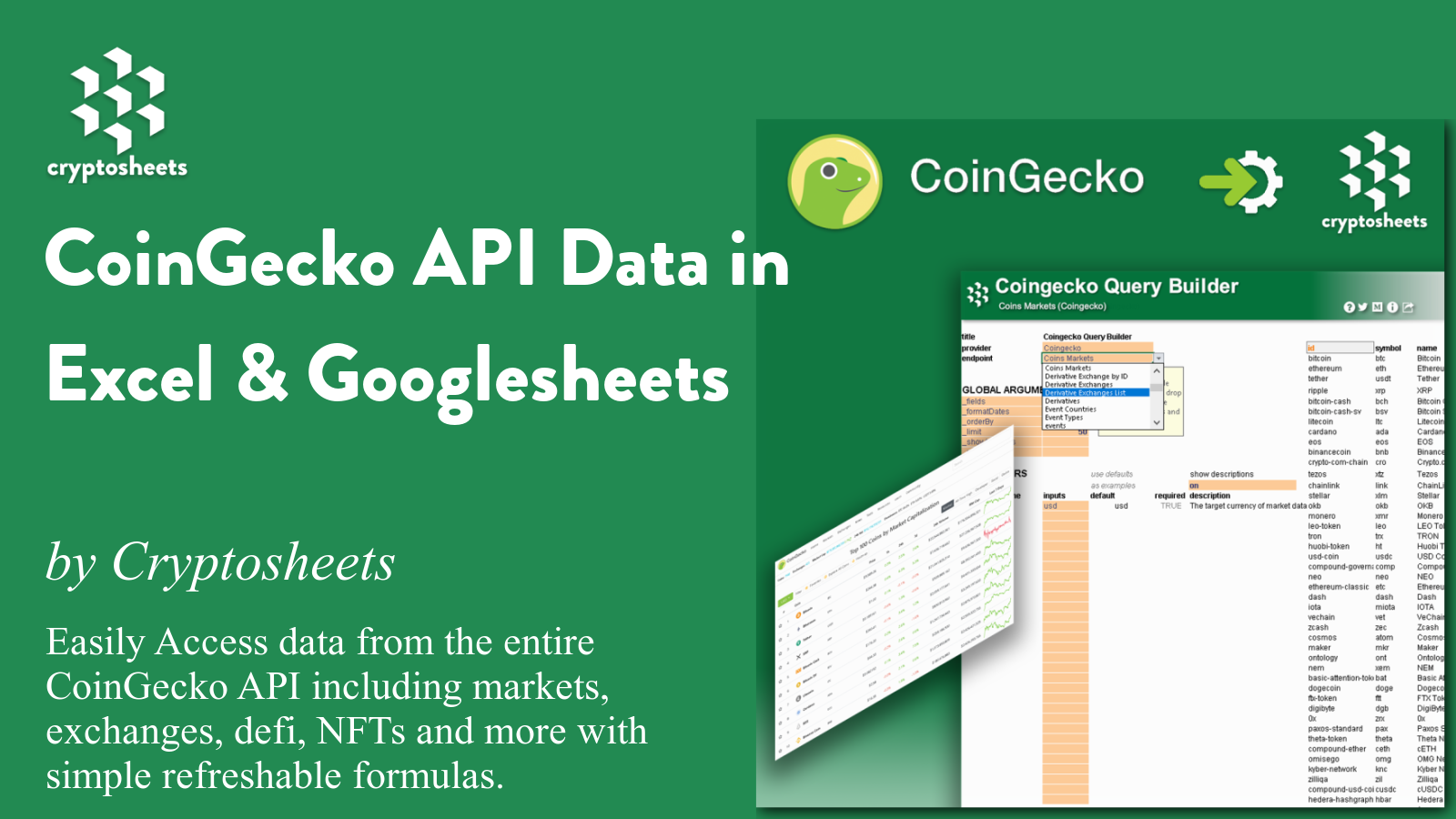 Easily Create Dynamic Dashboards Using Automatically Refreshing Custom Functions, Custom Data Sources, External Research Models and Your Own Portfolio Positions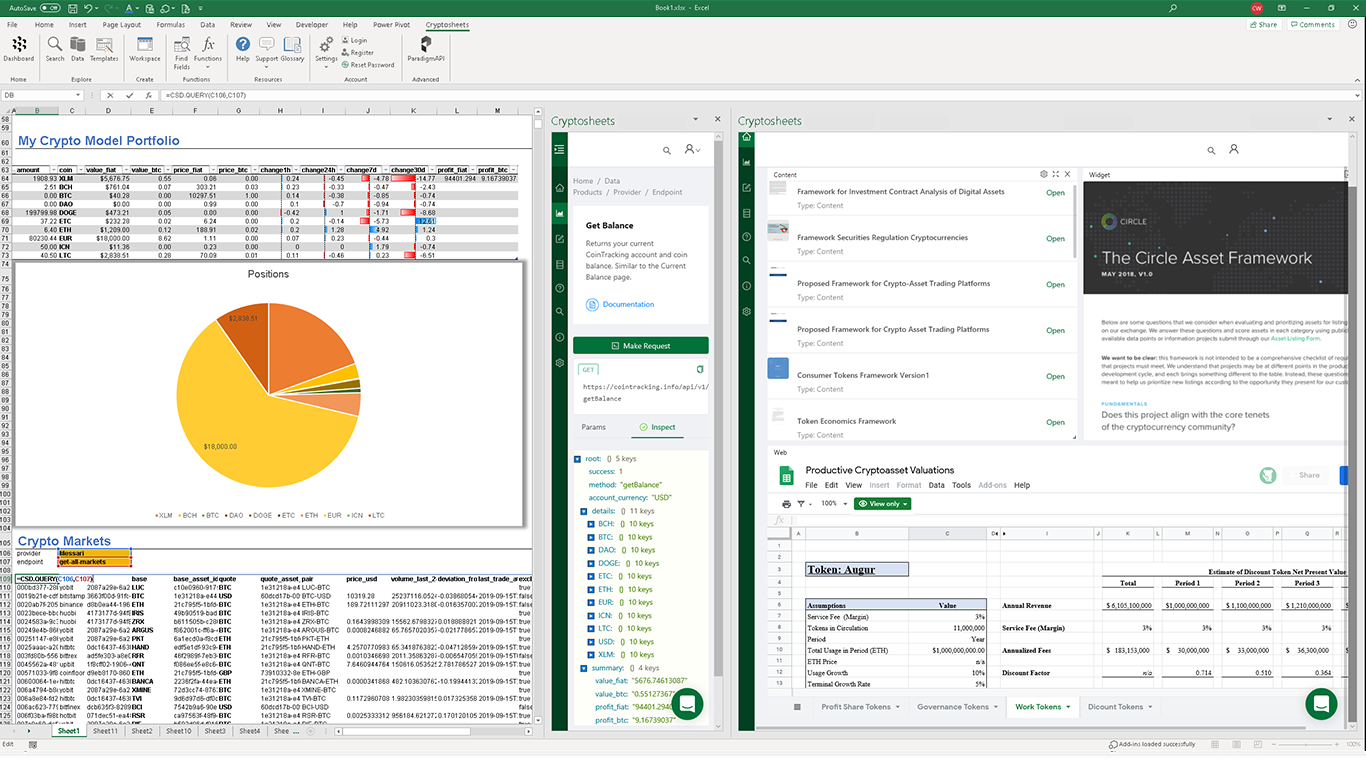 Who uses Cryptosheets?
Cryptosheets is used by a wide array of individuals and companies. See below for some of the notable users of our platform.
Let's get you started
Start building with Cryptosheets now
"Most crypto data services are limited in scope, precision and inherently bias. Cryptosheets changes the conventional data workflow by providing access to any source we want inside our workspace, bridging the gap between pulling & formatting complex data. The ability to seamlessly pull in hundreds of different crypto data sources, research and charts side by side from one unified tool is a genuine paradigm shift for me and my team. We use it everyday."

Larry Cermack

Director of Research, The Block

"A lot of our clients have asked us for Excel or Google Sheet integration so it was a no-brainer to work with CryptoSheets, who have assimilated every aspect of our API service. The powerful CryptoSheets product is easy to use and really helps to show-case our own market leading data service and reach a broader audience. If you can use Excel or a Google Sheet, you can use CryptoCompare API data."

Charles Hayter

CEO, Founder CryptoCompare

"Wow I literally just used your plug-in in google sheets this weekend to build a mining model. What you've created is huge and a big help."

Brendan Sturm

Ledger Capital

"Similar to Covalent, Cryptosheets mission is to make digital asset data easy to access allowing users to overcome traditional barriers to entry and participate meaningfully in the crypto economy. Covalent is delighted to be the granular blockchain data provider of choice for Cryptosheets."

Ganesh Swami

CEO, Covalent

"As soon as we saw Cryptosheets, we knew we wanted to be an integration in the platform."

Adam Shahaf

CEO, Solume.io

"Cryptosheets is exactly the sort of integration we have been looking at using for a long time."

Jeroen Erne

CEO, Nexibeo/CoinCheckup.com
Use Cases
The Cryptosheets add-in for Excel & Google Sheets can be used to solve many issues facing investors, portfolio managers, traders, analysts, auditors, accountants and students